Lowongan Kerja Posisi Junior Network Engineer di PT Sinergy Informasi Pratama
DESKRIPSI LOWONGAN KERJA
Job description & requirements
PT SINERGY INFORMASI PRATAMA (SIP) is one of the enterprise IT system integrators in Indonesia, with main focus on providing integrated network infrastructure solutions. Currently we are seeking for qualified candidates to fill the position of: JUNIOR NETWORK ENGINEER
Qualification:
Min. SMK in TKJ (Computer and Network Technology)
Able to WFO 5 days a week (Mon-Fri) in Kembangan, West Jakarta
Roles and Responsibilities:
Design and deploy network infrastructure and network security 
Perform necessary checks, apply monitoring tools and respond to alerts
Support design document and documentation
Automate routine tasks using scripting
Participate in the planning of business continuity initiatives
Analyze physical and logical configuration of network, system availability (unicast, multicast), system capacity, QoS, system resiliency, network security and integration with existing client infrastructure 
Perform administrative task such as job report, timesheet, and working report beside main project document
Benefits:
– BPJS Ketenagakerjaan
– BPJS Kesehatan
– Interesting bonus
– THR
– Sponsored certification
– Training & employee development program
PT Sinergy Informasi Pratama tidak pernah memungut biaya apapun selama proses rekrutmen hingga penerimaan karyawan. Dihimbau agar berhati-hati terhadap upaya penipuan lowongan kerja yang mengatasnamakan PT Sinergy Informasi Pratama. PT Sinergy Informasi Pratama tidak bertanggung jawab atas kerugian apapun yang ditimbulkan oleh pihak-pihak tidak bertanggung jawab.
Skills
Networking
Information Technology
Communication Skills
Analytical Skills
Culture
At PT Sinergy Informasi Pratama, we are collaborative, fast paced, adaptable, driven and progressive.
Benefits and perks of working with us include:
Compensation: Bonuses, Competitive salaries, Transportation reimbursement
Family benefits: Paid maternity / paternity leave
Lifestyle: Company outings
Progression: Professional development
Welfare: Health insurance, Wellness programs
–
Informasi Tambahan Lowongan Kerja
Tingkat Pekerjaan : Tidak Terspesifikasi
Kualifikasi : Tidak terspesifikasi
Pengalaman Kerja :
Jenis Pekerjaan : Penuh Waktu
Spesialisasi Pekerjaan : Komputer/Teknologi Informasi, IT-Admin Jaringan/Sistem/Database / 508, 193
Informasi perusahaan Pemberi Kerja, PT Sinergy Informasi Pratama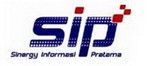 PT. Sinergy Informasi Pratama, a well established system integrator and a Partner of well known IT Infrastructure Principle such as Cisco, Fiberhome, HP, which is located in Jakarta, 
PT. Sinergy Informasi Pratama (SIP) is one of the company's IT system integrator in Indonesia, which focuses on providing an integrated network infrastructure solutions. This includes the provision of applications both in hardware and software to meet the needs of a company's business development.
In a business environment that is constantly dependent on technological change, on the one hand, a company must have a strategy in controlling their every investment. While on the other hand, the drive to meet the needs of growing competitive.
It can be in Balance efficiently and with the right tools, benefits to a solution will be effective and optimal.
Informasi Tambahan Perusahaan PT Sinergy Informasi Pratama
Ukuran Perusahaan : 51 – 200 pekerja
Waktu Proses Lamaran :
Industri : Umum & Grosir
Tunjangan dan Lain-lain : Asuransi kesehatan, Waktu regular, Senin – Jumat, Bisnis (contoh: Kemeja)
Lokasi : Jakarta Raya